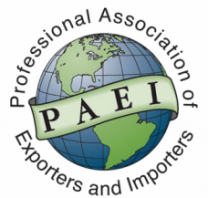 P.A.E.I. presents
Webinar: Overview of International Trade and Export Control Developments in the Asia Pacific region
Tuesday, September 14, 2021
6:00 p.m. to 7:30 p.m. PST (9:00 to 10:30 p.m. EST)
Join us for this interactive "webinar" with our industry experts on an Overview of international trade and export control developments in the Asia Pacific region and implications for global supply chains.
The international customs and trade landscape has experienced some significant movements over the past few quarters, with two of the major drivers being COVID disruptions and the increased tensions between the two biggest economic powers.
It is ideal for Export-Import Compliance professionals who want to understand how companies are reacting to make their supply chains more resilient and what countries in Asia are doing in response to make themselves more appealing destinations to play a more significant role in the global value chains.  It will also review some of the recent export control developments in the Asia Pacific region.
The seminar can only be attended via a "webinar".

Speaker:  Eugene Lim, Co-Founder and Principal, WTS Taxise, Singapore
Eugene Lim is an international trade and tax lawyer who works extensively in the Asia Pacific region. He is a founding Principal of Taxise Asia LLC ("WTS Taxise"). He has extensive experience relating to the structuring of supply chain and distribution strategies in the Asia Pacific region as well as in international tax and trade matters. He has advised numerous Silicon Valley companies on trade issues in Asia.
Previously, Eugene was based in Hong Kong and China for 11 years before moving to Singapore in 2014 to head the Singapore Tax, Trade, and Wealth Management practice in one of the largest international law firms.
Eugene is named 2021 International Trade Lawyer of the Year by The Asian Lawyer. His areas of trade expertise are WTO / International Trade, Customs and FTAs, Supply Chain Structuring, Export Controls, and Trade Sanctions.
Location:  Your Computer!
*Webinar details will be sent by email a few days before September 14*.
Registration: FREE for P.A.E.I. members/$50 for non-members. Credit or debit card payments only.
Refunds for cancellations must be received by Noon PST, September 10, 2021. Please request refunds by emailing PAEIAdmin@paei.org.
Not a member? Consider becoming a PAEI member today!
The cost of membership gives you FREE attendance to this webinar, and the many more benefits you can enjoy participating in PAEI. Talk about a deal!
Individual Membership only: $50
Corporate Membership only: $150
For registration questions, please contact Marit Fox at PAEIAdmin@paei.org.
Description:

Access details will be shared a few days before the program.
September 14, 2021




6:00 pm - 7:30 pm
We're sorry, but all tickets sales have ended because the event is expired.