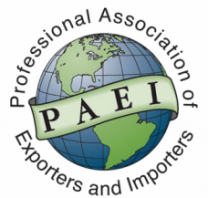 P.A.E.I.
Present
"Throwback" Wednesday Webinar
Wednesday, September 23rd, 2020
10:00 to 11:30 a.m. PDT (1:00 to 2:30 p.m. EDT)
Join our special guest speaker Kevin Wolf, former BIS Assistant Secretary for Export Administration, who will field your questions about recent updates to the Export Administration Regulations
This webinar will feature Kevin J. Wolf, Partner in Akin Gump's international trade practice, based in Washington, D.C. Prior to joining Akin Gump, Mr. Wolf served as Assistant Secretary of Commerce for Export Administration with the Bureau of Industry and Security, where he developed and implemented policies pertaining to export administration issues, particularly the licensing requirements of EAR.
He also spearheaded the Export Control Reform effort, which resulted in major changes to the EAR and ITAR, and generated lots of questions from industry.  While at BIS, Mr. Wolf held weekly public teleconferences where he would answer questions about the reform effort and the regulations in general.  Although he is no longer with the government, our webinar will echo those calls, particularly with respect to recent China-focused changes to the EAR.
Participants will be encouraged to submit questions in advance so that Kevin and moderator Dan Fisher-Owens can be sure to address the most pressing questions about these new rules. Participants may also submit questions about other EAR compliance issues, which will be addressed if time permits.  You can submit your questions from the registration page in the space provided or email our office at paeiadmin@paei.org noting "Throwback" Questions in the subject line.
The webinar will focus on the following topics
Huawei-specific Foreign Direct Product Rule
Update to Military End-User and End-Use regulations
Updates to regulations related to Hong Kong and China
Rule to Facilitate U.S. Companies' Involvement in Standard-Setting Bodies Including Huawei
Who Will Benefit:
Global Trade Compliance Professionals
Import/Export Compliance Personnel
Legal Department
International Purchasing and Logistics Managers
Customs Brokers
Location:  Your Computer!
*Webinar details will be sent by email a few days before September 23.*
Registration: FREE for P.A.E.I. members/$25 for non-members. Register below.  Credit or debit card payments only.
Refunds for cancellations must be received by Noon PDT, September 18. Please request refunds by emailing PAEIAdmin@paei.org.
Speaker:
Kevin J. Wolf, Partner – Akin Gump
Former Assistant Secretary of Commerce for Export Administration – BIS
Kevin J. Wolf is a partner in the international trade practice. His experience encompasses the laws, regulations, policies, and international arrangements pertaining to national security, foreign policy, and other controls over the export, re-export, and transfer of military, dual-use, and other commodities, technologies, software, and services to various destinations, end-uses, and end-users. His work focuses on the U.S. regulations implementing these controls, including the Export Administration Regulations (EAR), the International Traffic in Arms Regulations (ITAR), sanctions administered by the Office of Foreign Assets Control (OFAC), and regulations administered by the Committee on Foreign Investment in the United States (CFIUS).
Prior to joining Akin Gump, Mr. Wolf served for seven years (2010-2017) as Assistant Secretary of Commerce for Export Administration in the Bureau of Industry and Security (BIS) at the Department of Commerce, where he developed and implemented policies pertaining to Export Administration issues and provided overall direction to, and management of, BIS's national security, nonproliferation, foreign policy, national defense, and strategic industrial resource functions.
Moderator:
Dan Fisher-Owens 
Dan Fisher-Owens is a Partner based in San Francisco, California, focusing on U.S. export controls and economic sanctions. His practice covers transactional counseling, classification, commodity jurisdiction, licensing, designing, and auditing compliance systems, as well as voluntary disclosures, investigations, and enforcement matters.
Dan is fluent in Arabic, having lived and worked in the Middle East. He is also fluent in Spanish and has a working knowledge of Persian and French.
Dan is a Director of the Professional Association of Exporters and Importers ("PAEI"), a Bay Area non-profit provider of educational programs relating to import and export controls.  He is also active on the CompTIA Export Controls Committee.  He is a frequent speaker at conferences and company training events in the United States and abroad on export controls and economic sanctions topics.
**Not a member? Consider becoming a PAEI member today!
**The cost of an individual membership gives you FREE attendance to this seminar and the many more benefits you can enjoy participating in PAEI. Talk about a deal!**
Individual Membership only: $50
Corporate Membership only: $150
For registration questions, please contact Marit Fox at PAEIAdmin@paei.org.
Description:

Access details will be shared a few days before the program.
September 23, 2020




10:00 am - 11:30 am
We're sorry, but all tickets sales have ended because the event is expired.